Wayne County Delivers Economic Success and Livability
Our Economy is Nationally Recognized
Give us a call to discover how we can tailor assistance to fit your particular needs, but for now, we'll let the numbers tell the story. Wayne County is ranked:
#1
in Ohio for the 6th year straight (POLICOM Strengths Ranking, 2023)
#7
in the U.S. (POLICOM Strengths Ranking, 2023)
8%
Best performing micropolitans in the country (Site Selection Magazine, 2023)
#3
Manufacturing Growth in Ohio
---
Our Location is Advantageous
We are located in Northeast Ohio approximately 60 miles southwest of Cleveland and 35 miles west of Akron and Canton. Wayne County retains its small-town charm and lower costs of living and doing business while featuring small city amenities and efficient national and global market access. Manufacturing prospers here, as well as ag-biosciences. Companies like Schaeffler Group, The J.M. Smucker Co, GOJO, Morton Salt, Wooster Brush, Daisy Brand, Artiflex, Purina and PepsiCo/Frito-Lay all have operations in Wayne County. The Ohio State University's Ohio Agricultural and Research Development Center (OARDC) is the nation's largest research facility dedicated to ag-biosciences.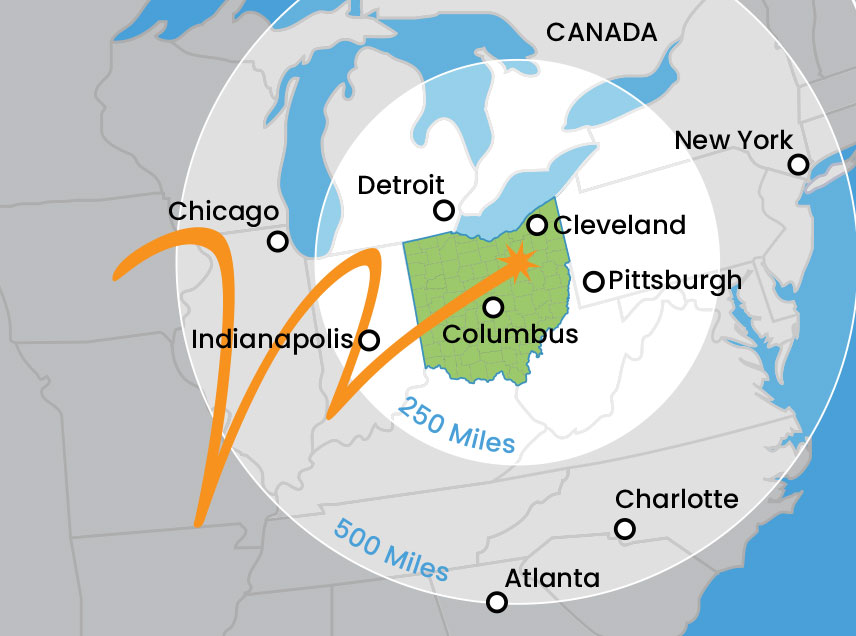 ---
Wayne County is the Total Package
Wayne County has evolved into one of the most dynamic small communities in the country with a cost of living that is 20 percent below the national average. Our housing costs are 37.5 percent lower, too. We pride ourselves on our agricultural heritage and the work ethic it has imprinted on our labor force. That work ethic, economic support and our institutions of higher learning have propelled us into one of the elite areas of the U.S. for technology and R&D associated with ag-biosciences. Wayne County is the ideal place to grow your business and enjoy your life. Contact us today and see what advantages you can realize.